In possibly the dumbest list I've seen in some time, CBS sports just posted their NFL fan base rankings. The author, John Breech, looks pretty young which helps explain the bonehead list.  Amazingly, he has the Pats fan base higher than Denver's, which pretty much costs his list any credibility. I know tons of Pats fans, and for most of them the Pats are not the top dog in Boston, the Red Sox are. Wow. The only reason they have a larger fan base now is because success breeds fans, especially fair weather fans. 🙂
A more accurate list was posted by Forbes back in 2014 by Christina Setimmi. Below is my top 5 fan base list, based on my experience going back 40+ years. First a disclaimer that I am a long-time Broncos season ticket holder so I'll have an obvious bias for Denver, but I think an easily substantiated one.
#1 Denver Broncos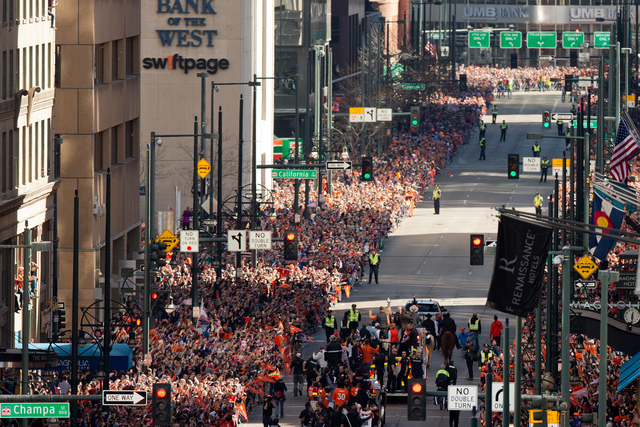 Denver wins the award for lowest ratio of fair weather fans by a high mile. Despite stinking it up from their birth in 1960 through the mid 70s, they developed a loyal fan base and have the 2nd longest sellout streak in the NFL. The only reason the Redskins have the streak is because for the longest time they had a stadium that sat like 20 people. OK, maybe RFK Stadium sat in the mid 40Ks, but nothing compared to Mile High stadium at 75K+ (the new stadium sits 76K+).  The Forbes list also put them at #2. This was before the SB 50 win that drew OVER 1 MILLION FANS. Earth to John Breech!
#2 Green Bay Packers
Green Bay fans travel really well, and the Cheese Head is an NFL icon. They have a deep fan base because of their rich history. But they do not have the sellout longevity like the Broncos so they take 2nd. Comparing victory parades would also not bode well for the Pack, it wouldn't be much different than comparing any NFL crowd to the nearest high school football game crowd. I've found Packers fans to be the least annoying in the NFL.
#3 Pittsburgh Steelers
The Steelers travel better than any team I've ever seen. It seems that every NFL town has a well-frequented Steelers bar somewhere. The only knock against them is that they did not have a huge fan base/support in the long drought they suffered before their Super Bowl victories started coming in the 70s. Success breeds fans, that's for sure!  Steelers fans tend to be brash but classy at the same time.
#4 Dallas Cowboys
Dallas is another team that travels well. Back in the day I was able to get into both AFC Championship games against Cleveland via a face value ticket down by the stadium, but was shut out in the regular season for the first time when Dallas was in town (sometime in the late 80s if I recall). Dallas has also been very good at marketing their team. I good friend of mine when I was but a wee lad would get free stuff from them, so it turned him into a Cowboys fan and he drove all of us nuts. This was back in the 70s with Staubach and "Americas Team". Dallas has probably the most annoying fans I've come across, except for maybe Pats fans.
#5 Cleveland Browns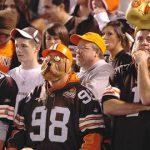 Believe it or not, as bad as the Browns suck they have a loyal fan base, and the Dog Pound is an NFL icon. I remember working as an Engineer at McDATA and fielding a call from a female engineer working for a different company to go over a shared customer's issue, and when she found out I was a Broncos fan she got ticked off at me, seriously. She was not joking and very angry and went on a tirade. I felt like I was married and didn't take out the trash. I can't help that they were mired in Marty ball and we happened to beat them every time we played them. And oh,  that Byner fumble in the '88 AFC Championship? Every time I hear how unfortunate that was for them, I have to remind people that it would have only TIED the game and Elway had ions of time (just under 2 minutes), to drive down for a winning field goal. So they likely would have lost anyway, so get over it. 🙂
Honorable Mention: Oakland Raiders, Philadelphia Eagles, Seattle Seahawks
(Visited 234 times, 1 visits today)