Late in the evening of January 24th after watching Denver beat New England in the AFC Championship game at Sports Authority Stadium, by pure happenstance I noticed something sitting in my Google 'All Mail' folder titled 'Super Bowl 50 Ticket Information'. I normally don't check this folder but had a reason to that night that I don't recall. Luckily for me I did, since the NFL only gives you two days to respond to the email. As it turns out my son and I were fortunate enough to win the season ticket lottery for Super Bowl 50. Well, I say lottery somewhat loosely since we still had to pay for the tickets, but for much less than what they were worth on the open market. After I told my wife and gave my son the good news, I quickly got on Ticketmaster and pulled up the seat options and put them in the cart with my credit card information entered. My wife came in my den and saw the cost of the tickets and panic-strickenly asked if I was sure I wanted to buy them, and my answer was a quick hit of the ENTER key on the keyboard! My son quickly reassured her the tickets were easily 4 to 5 times what I just paid for them. Yes, I spent a few days deciding whether or not to sell the tickets. But peer pressure from friends and family, and the thought of this being a once in a lifetime opportunity, made it a no brainer to keep the tix and go to the game.
The Super Bowl 50 festivities before the game in downtown San Francisco were well worth the time and cost. Included was an area partitioned off for outdoor cheer rallies, and a huge indoor facility called Super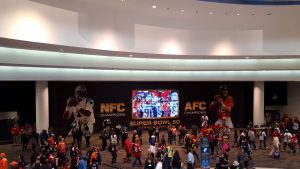 Bowl City. A big highlight for us was the Super Bowl ring display where you could view all the rings from the previous 49 Super Bowls. Ryan and I also clowned around as commentators on a fake NFL network set, recorded as a professional-looking video to take home.
We couldn't have asked for more beautiful weather on Super Bowl Sunday. As we were walking to the game we noticed plane smoke sky writing, mostly promotional stuff from Doritos. Needless to say I got distracted looking up and ended up tripping on something and took like a one minute fall, or at least it seemed that long! You know, stumbling, people trying to grab you, but eventually succumbing and hitting the pavement. Luckily this 54 year old man was left relatively unscathed. I had thought of how disastrous it would have been had I broken a bone or torn an achilles, but also knew I wouldn't let anything short of wild horses keep me from finding my way into Levi Stadium. I'm not sure Ryan would have been sympathetic to any sort of medic visit either. 🙂
Video Montage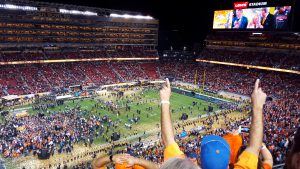 Well, as you can imagine it was much more than we could have hoped for, as Denver led the entire game and came away with their 3rd Super Bowl title in 8 tries. I put together a video montage of Super Bowl 50 game day using clips from both my Samsung Note and and my son's Samsung Galaxy. The video starts with the pre-game festivities at the stadium, then some half-time video, and finally end-of-game screaming and cheers. The best part starts at the 23:22 mark soon after Von Miller's last strip sack and the touchdown + two point conversion, which began the inevitable feeling that "Denver's gunna win this thing!". Hope you enjoy it!
(Visited 184 times, 1 visits today)