I'm not going to lie that I was a little nervous going to the Super Bowl given its high profile as a potential terrorist target. I thought of the old Hollywood classic "Black Sunday", and more recently Tom Clancy's "The Sum of All Fears", both fictional accounts of terrorists attacking the big game. The movie "Black Sunday" was a domestic terrorist's attempt to "shoot" everyone in the Super Bowl with an explosive contraption. The "Sum of All Fears" book had Islamic terrorists successfully detonating a small atomic bomb during the game. Of course Hollywood had to inject its political correctness and changed the terrorists in the movie to Russians and American cohorts wanting to start a war. Dumb and unrealistic!
Anyway, I must say that I was thoroughly impressed with the amount of intimidating Super Bowl security there was all over the place. Weeks before I happen to know they partitioned off streets near the stadium for security reasons, because it impacted guys who I worked with at the Micron office in Santa Clara. On game day I noticed high flying helicopters that I'm pretty sure were not TV crews.
Most noteworthy though were the "ground troops". Scattered about were lots of local police, and plenty of heavily armed FBI guys. I'm sure all these guys carry the same wallet as Jules Winnfield! Definitely America's finest.
Below are some pics from our trip to Super Bowl 50 at Levi Stadium.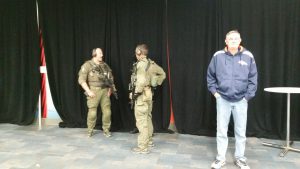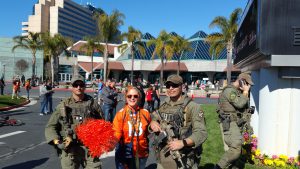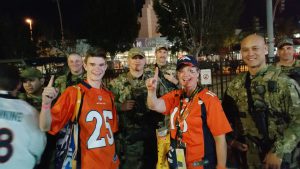 (Visited 284 times, 1 visits today)