I can't believe how everybody just assumes Tom Brady is going to be good this year. The odds are very much against it. It's a big elephant in the room that everyone in the NFL press from TV to radio sports talk is ignoring.
QB Cliff
How many quarterbacks can you name who played well at 39 in the last half century? I can think of just one, Brett Favre, who by the way stunk it up at 38 and 40. Most QBs fall off the cliff around age 36 or 37, with only the really good athletes playing well at 38 (Roger Staubach and John Elway come to mind, both of whom were still VERY good at 38).  But what of the other Hall-of-Famers? People forget just how bad Johnny Unitas, Jim Kelly and Dan Marino were before they even reached age 38. Drew Brees is already stinking it up, and we all know how Peyton Manning played at age 39 (and the later half of age 38).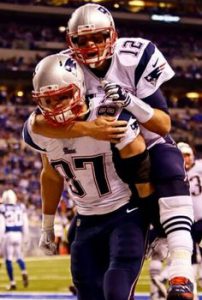 I already have several bets out there with friends that Brady will be out of the top 10 in both QB rating and QBR in the 2016 season. Last year he was 4th in the QB rating and already out of the top 10 in QBR at #11. As mentioned in my NFL's Top 100 Players Biggest Blunders blog, Brady was ordinary without the Gronk. This year he'll be less than ordinary, I have way too much history on my side.
The Diet Argument
I will admit that I was surprised that Brady was effective last year. The reason is because the only QBs who have played well after age 37 were really good athletes. Brady isn't a QB that would have the phrase "good athlete" tied to him in the same sentence. People who think Brady will be good again this year, which seems to be just about everybody, often cite his diet. There is no denying a superior diet makes a difference, but a good diet cannot stop father time. Only "time will tell" who is right, this blog or all the other prognosticators!
The Quarterback Rating
I've been watching NFL football for over 40 years now. I'll honestly be shocked if Brady finishes in the top 10 in either the traditional QB rating system, or the new QBR system. And this is being conservative, because the traditional QB rating system is tailor-made for Brady's style. But its recognized by any astute NFL'er as a pretty lousy gauge on how good a quarterback actually is. It heavily favors the dink-and-dunk QB over the down-field athletic QB. One of its biggest drawbacks is not accounting for a QB's ability to pick up a first down. It also doesn't account for a QBs 3rd down efficiency, which is often a true hallmark of a QB's ability. To perfectly illustrate this, consider that Dave Kreig is ahead of John Elway in the QB rating, and in fact in the prime of his career Dave Kreig was 5th in QB rating all-time!  Some reading this probably don't even know who Dave Kreig is, and those who do would have never dreamed of putting Kreig and Elway in the same sentence.
The QB rating is arguably the worst stat ever developed for any of the major team sports. So my point is that by my predicting Brady will fall out of the top 10 in even this rating that favors his style is giving Brady every opportunity to prove this blog wrong.
Brady Haters
It probably sounds like I'm a Brady hater. My son goes to CSU and last year there was a flag football team named "Tom Brady is a Lying Cheater". LOL. Well, honestly I'm not a Brady hater, I actually like the guy and think he's probably a top 5 QB of all time, which says a ton. I also think his suspension of 4 games this year was over the top. My guess is its because of the perception he tried to hide evidence, but I don't want to digress into that tired debate. Bottom line is I realized how great this guy was when I saw him lead New England in a furious comeback against Denver at Mile High in the mid-2000s. But his time has come and gone.
Admittedly Brady has surprised me that he played well at 38 given he isn't a great athlete at the position. But what is more surprising is that virtually no one in the NFL press is talking about this guy's age and just assumes he'll be lights out this year. We'll see. 🙂
(Visited 156 times, 1 visits today)