Updated 1/25/2021
Tom Brady admits he is a lucky guy to have been blessed to be on a great team with great coaching. He is indisputably a great NFL quarterback, and the most accomplished ever at the position. Now that Super Bowl LI is in the books, you'll hear most pundits insist that the argument is over, that "Brady is the best ever!" But what exactly do they mean by "best"? The most accomplished, the most talented, all of the above? If by "best" they mean the one quarterback that would be the first player taken if all GMs started from scratch and could choose any quarterback from history, then the argument isn't over. There will always be a vocal minority who look beyond the numbers and argue that Brady is not the best ever. I made a similar argument after Joe Montana retired, when many of the same pundits used the same logic in their proclamation of Montana as the best ever. So what is missing from their rationale? A hard look at circumstances, and yes, luck. The Patriots win over Atlanta will only fuel the fire, surrealistically adding to the long list of favorable circumstances that have found their way into magical Tom Brady's career.
AFC LEAST
Let's start with the undeniable fact that Brady was blessed with the absolute easiest division he could have ever imagined throughout his career. Because of the cakewalk of the AFC East, Brady was almost assured every year of an easy path the the AFC Championship game. They regularly secured a 1st round bye, followed by a home divisional playoff game in Foxborough. The easy AFC East schedule also didn't hurt in giving them the best opportunity every season to secure the top seed overall and the right to play at home for the AFC Championship game. If you don't think this has an impact, consider that Brady has won just 2 of 6 playoff games on the road.
Consider this – during his entire career, he never had to face a quality starting franchise quarterback in his division. Not once! This is not a claim you can make for any quarterback ever the history of the NFL. Don't believe me? Check out this list, all of them starters at one time:
The New York Jets freak show: Ryan Fitzpatrick, Geno Smith, Bryce Petty, Mark Sanchez, Greg McElroy, Kellen Clemens, Chad Pennington, Quincy Carter, Vinny Testaverde. The jets did have Brett Favre for a year, and in week 10 of 2008 he beat the Pats in Foxbourgh. But for most of that season the 38-year old codger was horrible.
The Miami Dolphins freak show: Jay Fiedler, Damon Huard, Ray Lucas, Brian Griese, AJ Feeley, Sage Rosenfels, Gus Frerotte, Joey Harrington, Daunte Culpepper, Cleo Lemon, Trent Green, John Beck, Chad Pennington, Chad Henne, Tyler Thigpen, Matt Moore and Ryan Tannehill. Anthon sports also reported on the horror story of QBs since Dan Marino.
The Buffalo Bills freak show: Tyrod Taylor, EJ Manuel, Matt Cassel, Kyle Orton, Thad Lewis, Jeff Tuel, Ryan Fitzpatrick, Trent Edwards, Brian Brohm, J.P. Losman, Kelly Holcomb, and Patriots reject Drew Bledsoe.
Post Season Fortune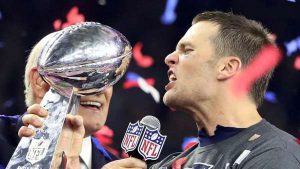 Yes, teams and players generally "make" their own luck, but not at this dizzying a pace. Aside from the fact Brady only won 2 of 6 playoff games on the road, consider this indisputable fact:
THE OUTCOME OF EVERY SINGLE TOM BRADY SUPER BOWL GAME CHANGES ON ANY ONE PLAY GOING THE OTHER WAY!
What if Tom Brady was unlucky in a single critical play in each Super Bowl and went 0-7? Consider the impact on his legacy. It would be a totally unfair legacy, but that's the point, you have to look past the numbers and the circumstances. Tom Brady could easily be anywhere between 0-7 and 7-0 in Super Bowls. When Brady threw the pick-6 against Atlanta, some instantly claimed this may hurt his legacy as the best ever. Huh? This proved exactly why you can't just look at a limited number of plays and Super Bowl wins to announce a QB as the best ever. If Brady had lost Super Bowl LI by 30 points, his legacy should still have been intact as the most accomplished post-season quarterback in NFL history. Not the best ever, but still the most accomplished.
So what of every Super Bowl win of Tom Brady coming down to a single game-altering play? His first Super Bowl goes without saying, as this was the year of the Tuck Rule that if called correctly would have knocked the Pats out of the playoffs. They then beat the highly favored Rams in a game most fans know was more likely the result of off-field cheating than superior QB play on the field.
Like the Rams Super Bowl, the next two Super Bowl wins over Carolina and Philadelphia each were decided by a field goal. The first two were late game-winning field goals from the best post-season kicker of all time, Adam Vinatieri (including the post season he had 18 game winners during his stint in New England). Of those games the Eagles game was the most fortuitous of the two. As ESPN's John Clayton noted, Brady did not have a good game and it boiled down to bad coaching that helped the Pats win, a theme that would continue through Brady's next two and most recent Super Bowl wins. Two years ago fans too soon forget that Pete Carroll's bonehead play call at the end of the game was the obvious deciding factor in the win for the Pats. The plays that went Brady's way in the historic comeback against Atlanta in Super Bowl LI, a game in which he cost his team at least 10 points on a pick 6 interception, are simply too numerous to count. Any NFL great could have mounted that comeback if all the breaks fall their way as happened to Brady. Tell me which wide open receiver Peyton Manning misses if he's in the game? This includes Manning getting free passes (pun intended) on several overthrows and two passes that color commentator Troy Aikman noted should have easily been picked.
Winning Without Brady
Virtually every team that loses their franchise quarterback to injury or retirement suffer significantly. The list is long and wide. Just look at the previously mentioned Dolphins drought without Marino, the Broncos drought without Elway, the Bills drought without Kelly, Manning's Colts losing 14 games the year he sits, etc. So what happened when Brady was out? For starters, he reached his first Super Bowl not just because of the tuck rule fiasco. Many forget he watched from the sidelines as Drew Bledsoe guided the Pats to a victory in the AFC Championship game over the Steelers. Then came the 2008 season that Brady missed due to injury, where the Patriots hardly missed a beat and still won 11 games with pedestrian Matt Cassell at the helm. In the 2016 season, with Brady suspended the Pats easily handled their first three opponents with backup Jimmy Garoppolo and rookie 3rd stringer Jacoby Brissett. That rookie happened to lead the team to a blowout of the Houston Texans (themselves a defending and eventual AFC division winner).
The Brady and Montana Syndrome
I made a virtually identical argument after Joe Montana retired. The same pundits claimed at that time that Montana was the best quarterback ever. But what was missed then and is missed now is the fortuitous circumstances both found themselves in. Who would argue against Bill Bellichick and Bill Walsh as perhaps the best coaches ever? What odds are there that the best wide receiver to ever play the game (Jerry Rice) was on the same team as the best QB ever? Is anyone seriously going to make the claim that this had no impact, or that Rice was the best ever because he had Montana throwing to him? Check out this top 10 list of highest scoring quarterback-receiver duos of all time. Notice the common element? Jerry Rice is on the list twice, 67 touchdowns with Montana and 92 with Steve Young. Circumstances play a HUGE, ENORMOUS role in the success of an athlete. We really don't know how many rings Montana would have if he had played for the Chiefs and their perennially substandard receiving corps his entire career. We will never really know how good Archie Manning would have been had he been blessed with a great coach and players around him.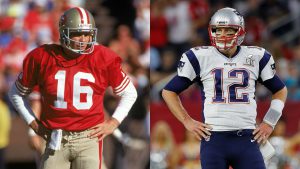 Some will argue that Brady did not have the talent that Joe Montana did. This is mostly true, but this then begs the question of why these same people are using the very argument I'm using when they compare Brady to Montana? It looks like the argument is worthwhile only when its convenient to their point of view. Let's not forget that Brady still had good talent around him, and arguably the best coach in NFL history. He's generally had good offensive lines, and very stout defenses. How many rings would Marino have if in Brady's shoes, and not playing for a Miami team that never fielded even an average defense? The Miami defenses were a calamity and a stain on the otherwise brilliant coaching career of Don Shula. Ironically, when Brady had his best talent at wide receiver with Randy Moss and Wes Welker, those three years resulted in no Super Bowl wins.
Is Brady The Greatest Quarterback Ever?
Brady is the most accomplished NFL quarterback ever, hands down. He also deserves extra credit for playing so well at 39 (see my Brady birth certificate parody). But its mostly emotion to claim Brady is the best QB of all time. If Brady had been saddled with the Browns or Lions franchises, he would still probably be a name, if not a Hall of Fame QB, but the greatest ever? Just ask a Brady-ite this question: "If Brady had been drafted by the Cleveland Browns or Detroit Lions and spent his entire career there, would he have had similar success such that he would be considered the best ever?" If they answer yes, then you have a serious Brady homer on your hands, and you should ask them to cut back on the tofu. 🙂 He would instead more realistically have had a career like a Drew Brees or Dan Marino. What if he were on the Broncos team during Elway's career? I see little chance Brady takes them to the first three Super Bowls, because Denver's line was notoriously bad and required a mobile QB to survive. In Denver's two Super Bowl wins, I do see Brady also winning those games, but any top 20 all-time great would win with that team.
I'm not saying the Patriots go to 7 Super Bowls without Tom Brady. No way, he is a major factor and an all-time great. But one play in each of those games separates him from going anywhere from 0-7 to 7-0 in Super Bowls. He's a great player whose had an absolute boatload of good fortune along the way. Let's all at least try to agree on one thing – the only one who can really answer if Brady is the best ever is God, and I can't wait to ask him. 🙂
---
Addendum (2/4/2018): It will never cease to amaze me how good fortune always finds its way into Brady's career. He just won his 3rd MVP, only because Carson Wentz was hurt with five games left in the season. Only a Pats fan would deny that Wentz was a shoe-in for the award. Russell Wilson also had a better season, but Brady won it on an inflated reputation. Brady also earned another trip to the Super Bowl because of a delay of game penalty in the AFC title game. Also of note is the "what is a catch" rule that allowed the Pats home field advantage in what otherwise should have been a loss to the Steelers.
Addendum (1/21/2019): For the 2nd straight year the Patriots are in the Super bowl because of a 5 yard penalty. This time, the Chiefs get flagged for an offside penalty that wiped out a Brady interception that would have won the games for the Chiefs. Brady also threw an endzone pick earlier in the game, and it certainly wasn't Tom Brady that shut out the Chiefs from scoring in the first half. In spite of the Tony Romo bromance with Brady, if there was ever a season that explains why Belichick, the Pats salary cap advantage, and the easy AFC East are the primary reasons for the Pats success, and not the over-hyped Brady, its the 2018 season.
Addendum (1/25/2021): Tom Brady has now won his 10th conference championship, this time with a 2nd team. I realize this author will appear to be stubborn beyond the facts to continue to point to fortune over ability. But ironically the facts in this case only bolster my argument of the incredible luck that continues for a great but over-hyped quarterback. In the case of Tampa Bay, the 43 year old Tom Brady made his own luck by choosing a stacked team to play with. But here's perhaps the most important point. Only a complete kool-aid drinker would argue that Brady was the better quarterback on the field in his last two championship game appearances (against Patrick Mahomes and Aaron Rogers respectively). One could make a similar though arguable case across most of his Super Bowls! For example, to anyone with any sense, Kurt Warner was the better QB in Brady's 1st Super Bowl win in "spy-gate", Donovan McNabb was better in SB39, Wilson in SB49, and in his last Super Bowl that netted his 7th ring (SB 53) he was indisputably a hindrance with only 13 points on offense. In the case of his 2021 playoff run, only against an injured Drew Brees was he barely the better quarterback on the field. But to many none of this matters, in their mind it will only be because Brady is the GOAT, all in spite of the coaches, players, team, and circumstances around him.
(Visited 4,776 times, 1 visits today)