March Madness Bracket Pools are the most popular type of office pool this side north of the NFL. With our free premier service, you can easily run your office bracket pool online without the hassle of accumulating bracket sheets and entering them into Excel or via some other mechanism. We do almost all the work for you! All you need to do is create your March Madness pool, invite your friends, and we do the rest!
March Madness Bracket Sheet
Picking teams and submitting a March Madness bracket couldn't be easier using our website. Your players can simply select each team up through the championship game, or they can get a jump-start by using our quick pick feature that will pre-fill their bracket than they can then manipulate as they like. Players have up until the deadline to change their picks.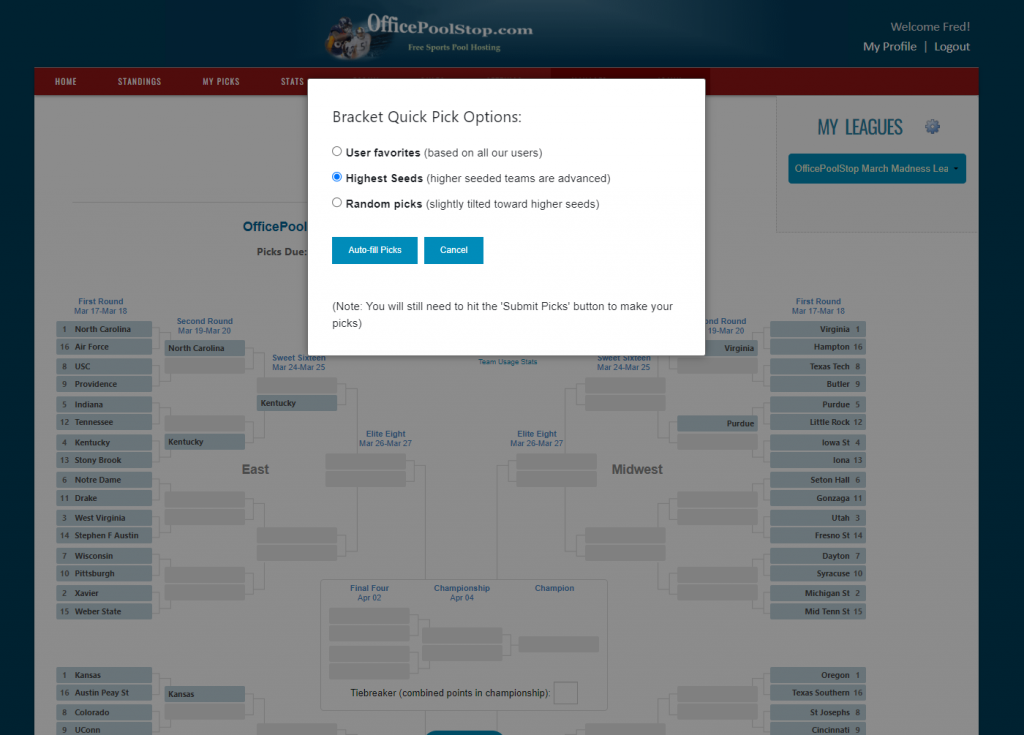 Note that managers have the option to limit how much time a player has to change their bracket before the deadline, via the 'Pick Grace Period' option in the league settings page of the Manager Control panel.
How to Score a March Madness Bracket
March Madness pool scoring is typically a different score or point value for each round of the tournament, with increasing points earned during the later rounds. Our online March Madness pool host lets you configure the point values for each round through the championship game. The default values are:
| | |
| --- | --- |
| Round 1 Points | 1 |
| Round 2 Points | 2 |
| Sweet 16 Points | 4 |
| Elite 8 Points | 8 |
| Final 4 Points | 16 |
| Championship Points | 32 |

We also provide two bonus point configurations, where a player can earn extra credit for correctly picking an underdog. They can either win the seed value for the winning underdog, or the difference in seed value between the underdog and the team it defeated. For example, if a 15 seed team beats the 2nd seed, if the seed value bonus is enabled, the player will earn an additional 15 points. If they pick the 2 seed, they get 2 extra points. The more popular configuration managers use is to only enable the bonus points for picking the underdog as shown below. In this case, the player who correctly picks an underdog that is the 15th seed will earn 15 – 2 = 13 additional points.

Managers can also configure a custom prize, such as a prize for who picks the most underdog games correctly. The winner and prize amount can then be displayed on the Standings page, in addition to the pool winners (prizes are configurable for 1st through 4th place, for best winning %, and for best Strength of Victory).
Tie-Breaker Score March Madness
Typically a March Madness online pool will allow players to pick the total points of the championship game to settle any ties after the tournament is over. How this works is whoever is closer to the combined total points scored between the two teams in the championship game has the better tie-breaker. Our March Madness pool host not only allows this, but you can also configure additional tie-breakers, such as best winning %, and/or, strength of victory (the margin of victory for all winning teams picked combined).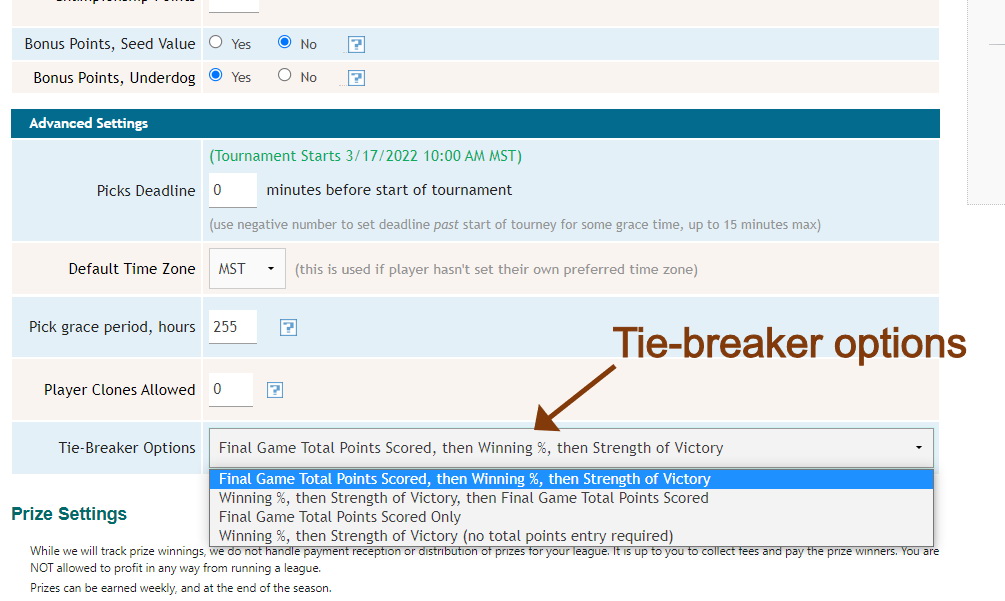 For more on March Madness bracket rules and tie-breakers, see our specific rules page for March Madness.
We are the Best March Madness Bracket Pool
Once you try our free March Madness hosting service, you'll see why we are the best site to run your March Madness bracket pool. You not only get an in-depth standings page, you also get pool-wide statistics such as how many times a certain team was picked, shown in user-friendly charts. TO top it all off, as a manager you get a pool accounting page where you can track which players have paid the league fee, how much you have paid out, a place to leave notes such as when and/or how a player paid, etc.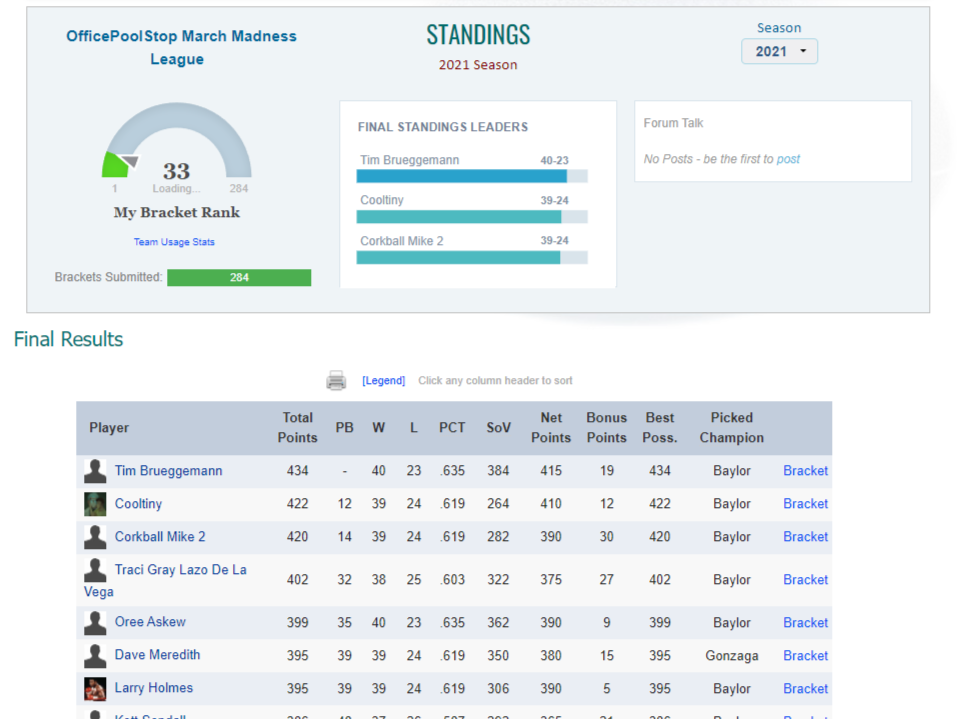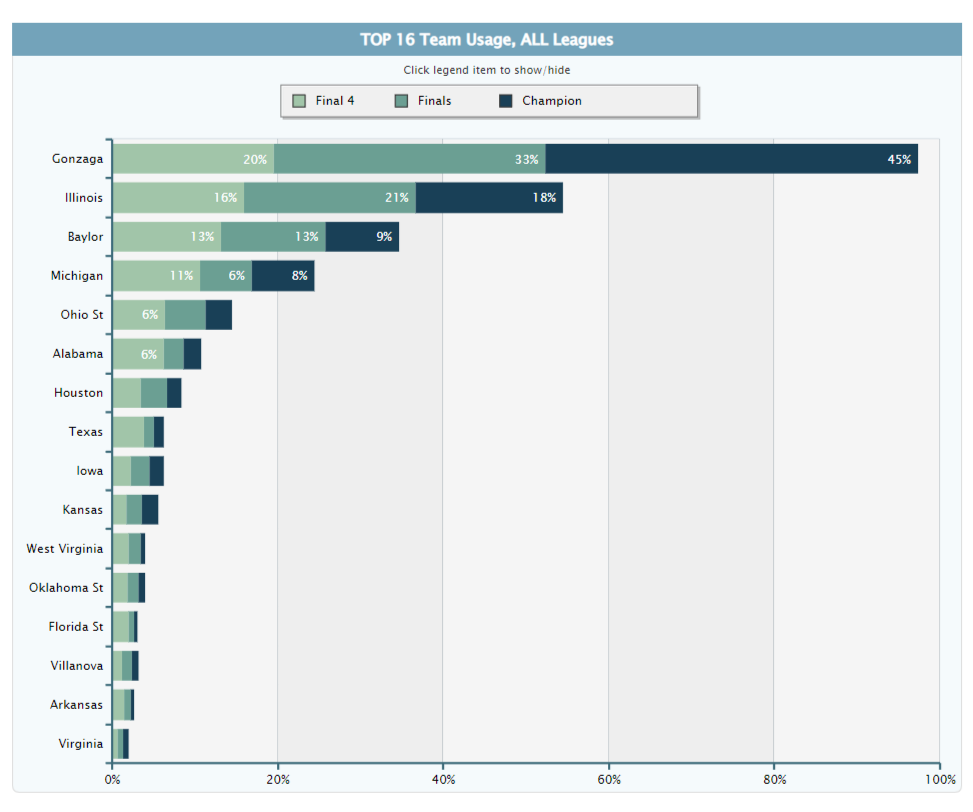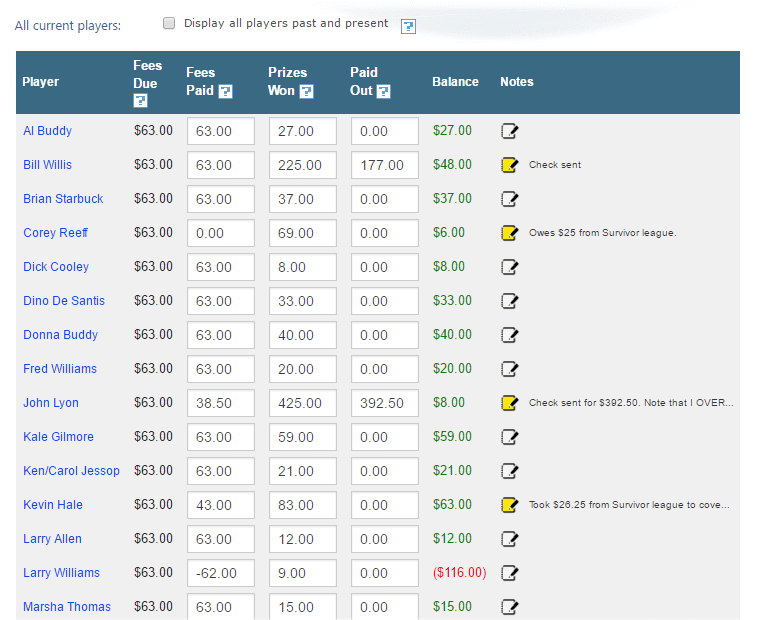 Create a March Madness Bracket Pool
We support four kinds of March Madness Bracket pools, a traditional 64-team bracket pool, a sweet 16 bracket pool, a Pick X bracket pool where managers specify how many teams to pick, and you score each time that team wins, and finally a March Madness rankem pool, where your manager specifies how many teams to rank, and the rank values you are allowed to use.
Create a March Madness Bracket Pool
Create a March Madness Sweet 16 Bracket Pool
Create a March Madness Pick X Pool
Create a March Madness Rankem Pool

(Visited 382 times, 1 visits today)