Are you one of those frustrated survivor pool players who seem to get eliminated every year within the first month? Do you feel like that yellow-haired freak who was the first guy to bite the dust playing Red light, Green light in Squid Games? Or maybe you are the person who stays alive most of the way only to lose with just a handful of survivors remaining? We have good news for you. You are not alone. You are not a loser (well, maybe you are but that's another story). Continuing reading for tips on how to improve your odds on avoiding the loser label in your survivor football pool.
Survivor Pool Tip #1 – Don't Get Cute Early
There are always a handful of players who in the first few weeks of the season will pick a slight favorite in hopes of saving higher quality teams for later down the road. There is nothing wrong with a plan that considers future picks, in fact its an important strategy for survivor football (see tip #3). But how often do you see goof balls picking slight favorites, or even underdogs early in the pool? While you shake your head in amazement, you then nod with cunning glee knowing these boneheads are only contributing to the pot and increasing your odds of winning. The first week of the season is especially the hardest to pick because its where you have the highest uncertainty of team strength, where hype and hope reign over reality. Find the highest handful of favorites and make an informed decision, don't get cute and roll the dice on a 50/50 proposition.
Survivor Pool Tip #2 – Balance Your Picks
According to Steve Martin, in order to make a million bucks… you first need a million bucks! To balance your picks, you need to have multiple entries. At our website these are called clones. Players who pay for the right to make multiple picks sometimes cannot resist picking the heavy favorite with all their entries. This is jaw-droppingly stupid. Well, at least it doesn't work for me. My advice is to only do this if there isn't a handful of other heavy favorites to pull from, or at least another team that is in the vicinity of heavy favorite. Who can forget when the lowly Cardinals in week 2 travelled to New England and beat the Patriots at Foxboro in the heart of their dynasty with Tom Brady! I not only lost both my pick entries, I also suffered in the pocketbook of my website as many survivor leagues came to a screeching halt, and those that remained were depleted badly of website visiting, ad-clicking goons.
Survivor Pool Tip #3 – Plan Ahead, Wisely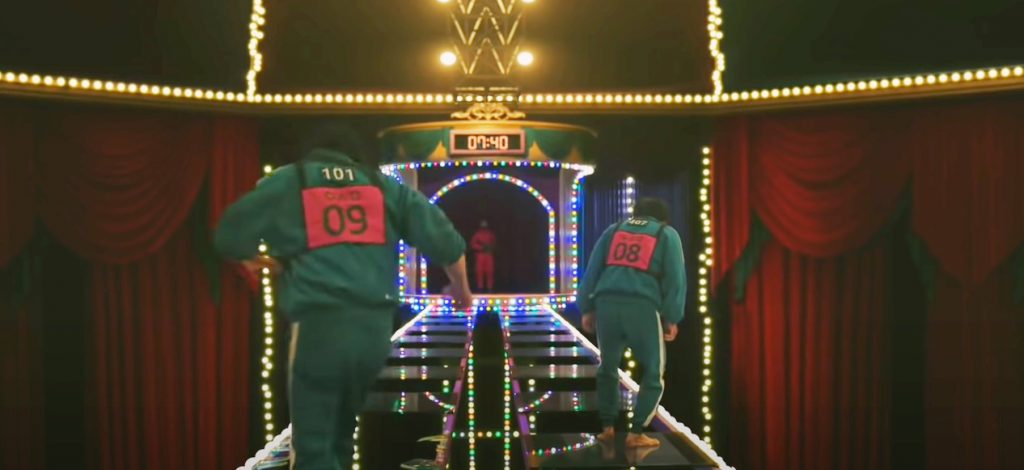 Many players who win survivor pools actually plan ahead and try to make informed picks. This means looking at future games in the schedule and mapping out who you pick each week. Basically you want to try to maximize having the heaviest favorite for the week still available to use for your pick. This of course assumes you are playing a real survivor pool where you can only use a team once. If your league manager allows you to use a team more than once in the regular season, this isn't a survivor pool, its probably a margin pool. Or, perhaps your league manager messed up the pool's settings, in which case you can ask him to cut back on the crack, seek new medication, and contact our help desk.
The bottom line – if you don't plan ahead, then don't opine when the season is on the line about being left without a good team to pick!
Survivor Pool Tip #4 – Use Our Patented Tools
At officepoolstop.com, we provide a survivor strategy and tips page with numerous charts to help you make your pick. Our most popular is a pareto of who players have picked, as shown in the example below. We also provide a chart of the highest quality teams based on how many wins they have and their margin of victory. Our advice is to wait for the week to progress to see the picking pattern across all the users of the website, then submit your pick.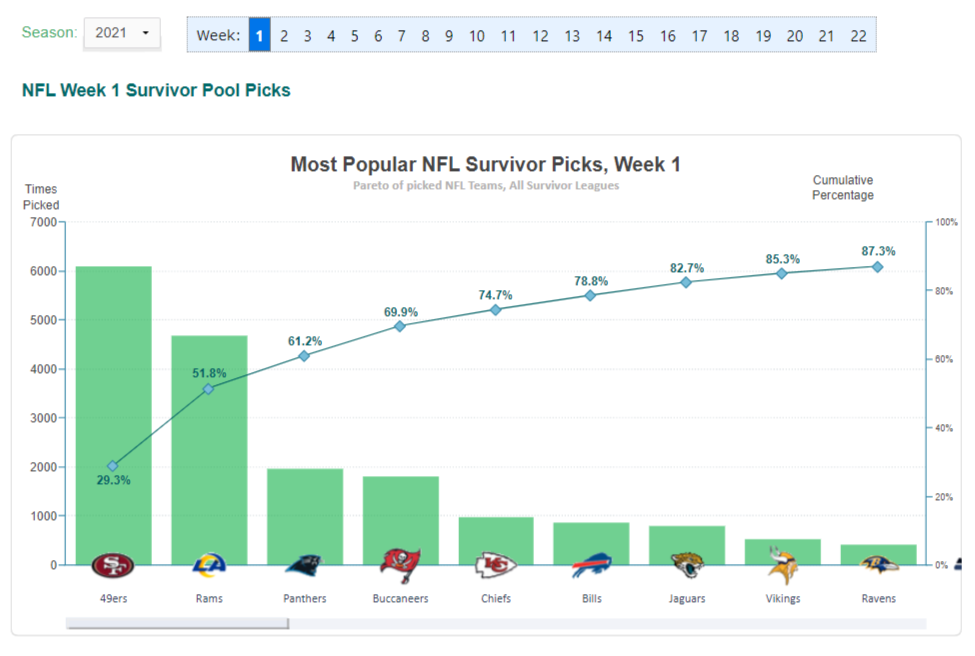 Survivor Tip #5 – Rub your nearest Leprechaun
Now that you have all the tools you need to win your survivor pool, its now time to rub your favorite leprechaun. If you are worried about COVID, wear a glove and tell Patty Boy to wear a mask and jump up and down on one foot. Ultimately the player who wins the survivor pool contest is going to need some luck. There is always that untimely late interception, or missed chip-shot field goal, or some other fluke that is one person's calamity and another person's jumping up in down in delight. So it all comes down to this – best of luck to you in your survivor pool endeavors!
If you want to dip your toes in our free public survivor pool, you can join here.
(Visited 179 times, 1 visits today)