Recently the NFL published their latest list of the 100 greatest players of all time. Their top 10 quarterbacks are: Sammy Baugh, Tom Brady, John Elway, Brett Favre, Otto Graham, Peyton Manning, Dan Marino, Joe Montana, Roger Staubach, and Johnny Unitas. This is a great list that is very hard to argue against. Every one of these players at some point in their career were considered the best in the game. This is why its reasonable that players such as the all-time yards leader Drew Brees did not crack the top 10. Other notable absences include Terry Bradshaw, Aaron Rogers, Steve Young, and Dan Fouts, and Sonny Jurgensen, among others.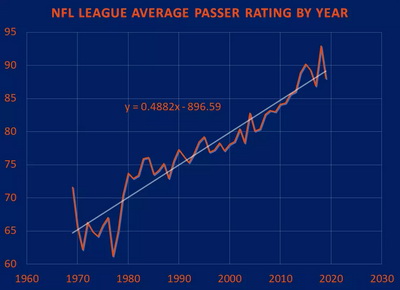 But what if you were one of 32 GMs slated to draft a team from NFL history? The following list is what I believe better represents the best quarterbacks of all-time. Stats become less important given the change in rules, improved offensive strategies, etc (see passer rating chart over time below). An important criteria is that the quarterback can carry a team on their back, such as when their team is either low in talent or riddled with injuries.
Below is how I would rank the top 10 QBs on my draft board from the modern NFL era (1967 through 2019). Others who are not on this list but worthy of mentioning include Joe Namath, Brett Favre, and Drew Brees.
10. Aaron Rogers
This was a close call between Rogers and Brett Favre. I give Rogers the nod because he protected the ball better. Favre himself marveled how "baffling" it was how little Rogers turns the ball over. Rogers through most of his career was always in the conversation for the best QB in the league. Every season he's healthy they were an automatic Super Bowl contender.
9. Dan Marino
In my many years of watching the NFL I've never seen a better combination of release and arm strength than Dan Marino's flick of the wrist. He was the most prolific passer of his time, but missed out on championships because Miami could not muster even an average defense. This deficiency was glaringly exposed in the post season. Pair him with Bill Belichick, Bill Walsh, or the Steel Curtain and its an entirely different story for Marino's career.
8. Joe Montana
Many will think Montana should be higher, but I found it tough to put him on this list because he doesn't have a track record of carrying teams on his back. His teams were STACKED with talent on both sides of the ball, which includes the best receiver of all time, Jerry Rice. Even the Chiefs team he played for late in his career was so good defensively that they won their division the year after Montana retired with Steve Bono (who?) and two years later with none other than the venerable Elvis Gerbac. Many also forget that he was chosen to start for the 49ers in a close decision over Steve DeBerg because he was younger. Nevertheless, Montana has so many great accomplishments on the field that I would feel safe taking him as the 8th best overall QB.
7. Tom Brady
Brady is another QB fans will think should be higher, and some fans lower given his incredible fortuitousness. He is indisputably the most accomplished quarterback in NFL history. The argument against him as G.O.A.T is the fact that he played for the best coach of all time in the weakest division in football, which all but assured a valuable first round bye and at least one home playoff game in most seasons. His Super Bowl wins and losses, and most of his AFC championship game outcomes can be changed by a single play. But for those who claim he is merely a system QB are engaging in extreme hyperbole that more reflects bias against Brady and the Patriots than reality. What Brady has over Montana is proving he can carry a team with limited talent and injuries. Just watch tape of the 2005 season where Brady led a team that started 45 different players due to injuries to the playoffs.
6. Terry Bradshaw
Terry Bradshaw was the epitome of strong arm and great athleticism. Al Davis called him the most productive quarterback of his time. I remember Davis marveling of Bradshaw's ability to heave an accurate bomb on one play, then the very next throw a precision screen pass with incredible touch. The years I watched him play, he was the most dominant quarterback in the game outside of #2 on this list. Bradshaw was one of the last QBs in the modern era to call his own plays. I believe with a sophisticated 21st century offensive coordinator he would have been unstoppable.
5. Johnny Unitas
Johnny Unitas' streak of 47 consecutive games with a touchdown pass is nothing short of incredible considering it occurred long before the advent of pass-friendly rules changes and sophisticated offensive schemes. Unitas was the prototypical quarterback with good size and a canon for an arm. He was generally regarded as the best quarterback of his era, though I would rank one of his peers oh-so-slightly ahead of him, and that player is…
4. Sonny Jurgensen
Sonny Jurgensen was known for a strong arm and pinpoint accuracy, with the highest passer rating of his era. Vince Lombardi once said that his Packers team would have never lost a game if they had Sonny Jurgensen. "Jurgensen is a great quarterback, he hangs in there under adverse conditions. …He's the best the league has ever seen. He's the best I have seen." Don Shula once said that only Sonny Jurgensen and Joe Namath had a comparable release to Dan Marino. This Hall of Fame quarterback largely goes unnoticed in the greatest-of-all-time discussions because he played on bad teams with weak running games and porous defenses.
Happy birthday to the great Sonny Jurgensen! #Redskins pic.twitter.com/aHF58Y57gQ

— Four Verts ? (@FourVerticals_) August 23, 2019
3. Peyton Manning
Its indisputable that 5-time MVP Peyton Manning carried his Colts team year-in and year-out to the post season. In the season Peyton missed due to injury, the Colts won all of 2 games. The next season he takes over an average Denver Broncos team that finished 8-8 the year before, and transforms them to back-to-back 13-3 seasons, followed by two 12-4 seasons. He helped two different teams win the Super Bowl, the only quarterback with that distinction. Some pundits may rank him lower because his post-season production was less than Brady or Montana, but I think GMs drafting a team from history would have no problem accounting for circumstance and surroundings when making their decision. In my view the odds are simply higher that Manning is the better, safer choice than the players below him on this draft board.
2. Roger Staubach
Roger the Dodger Staubach not only had a great arm, but he was also an illusive scrambler and exceptionally smart player. I hated those Cowboys teams but knew that I was witnessing greatness. I never saw the guy have a bad game. In today's offensive schemes he would be impossible to slow down. I favor him ever-so-slightly over Manning because of his ability to pick up first downs with his feet. I've watched all the greats play since Joe Namath, and Staubach simply passes the eye test a bit more than those above him in this list.
1. John Elway
Tony Dungy coached against Marino, Brady, Montana, and for/against Manning, and he ranked Elway the best of the bunch. The quintessential prototypical quarterback, Elway had every single tool you would want in a signal-caller. Elway had arguably the strongest arm in the history of the league, sometimes too strong (just ask some of his rookie receivers who learned the hard way with broken fingers). He was the most dangerous quarterback outside the pocket the league has ever seen. For those enamored with Patrick Mahomes (who will likely be on this list after his career is over), just watch the video below. Absent from stats and QB ratings is the number of drives Elway kept alive with his feet. Perhaps the most compelling reason why Elway is a safe bet as the top pick on the all-time draft board is his ability to carry not one, not two, but three barely average teams to the Super Bowl. Try to name Elway's running backs before Terrell Davis. How about a receiver? You might remember one or two, but you won't remember pro-bowl next to their name because it never happened. When Elway finally had a team around him, the Broncos won two Super Bowls (it easily could/should have been a three-peat). Its hard to image how many rings Elway would have if he played for Belichick in the AFC East, or for Bill Walsh with Jerry Rice in tow. In case you've never seen highlights of Elway, witness below what Broncos fans got to see on a regular basis every Sunday the Duke strapped on his laces.
(Visited 1,328 times, 2 visits today)