While our Play Money pool does not yet have the exposure of standard Pickem and Confidence pools, as fans become more aware of this pool it should continue to grow in popularity. The reason is because it is FAR more competitive than office Pickem and Confidence pools, and requires MUCH less time for each player. You won't have reason to lose interest half way through the season if you are doing poorly, as happens with confidence and pickem pools, because history shows its not over until the fat lady sings with Play Money pools.
History of the Play Money Pool
The Play Money pool was invented decades ago by yours truly, the owner of OfficePoolStop.com. In fact its the primary reason this site came into existence. I began running what was originally called the "bookie pool" in 1992. By 2012, with the pool still going strong with little turnover, I had reached a point that I wanted to make life easier on myself by having players submit picks online instead of via phone or email. I also wanted a way for the site to automatically track picks and standings to remove the burden of doing this in an Excel spreadsheet. Once I had added support for the Play Money pool I realized it would be easy to add the traditional pickem and confidence pools, plus the ever popular survivor pool, and the rest is history for OfficePoolStop.com.
Play Money Rules Summarized
You get $100 play dollars each week to bet against any number of games you want. You are required to bet a minimum of $100 each week, but you can bet a maximum of whatever you have accumulated. You bet against the spread, and can also bet the over or the under. The player with the highest play money balance by the end of the season wins. It that simple!
There are some interesting peripheral rules, such as the +6 bet. If you bet a game +6, it means you add 6 to the spread against your favor, but if you hit the pick you double your bet! For example, if Denver is a 5 point favorite and you bet $100 Denver +6, Denver must win by more than 11 to cover the bet. But if they do win by more than 11, you win $200 instead of $100.
Why the Play Money Pool is Superior to other Football Pickem-type Pools
There are two primary reasons the Play Money pool is more fun and exciting than other pro pick em pools – 1) It requires little time to make picks, 2) its far more competitive.
Easy Peasy Picken'
Each week players are given $100 in play money to bet against any number of games they want. Often players will pick just one or two games. That is, its totally optional how many games you bet. Pickem and Confidence usually require you to pick every game each week.
If you forget to pick for a given week, its often not that big a deal. The reason is because the most you lose is $100 in play money that you might have lost that week anyway. If you already have a high balance, say $2500 accumulated in play money by week 10, then missing week 11 only means that in week 12 you still have $2500 to use (actually $2600 since you get $100 each week).
FAR More Competitive
At the time of this writing, my Play Money pool has 26 seasons of history, and the public Play Money pool has 6 seasons. In every single season the winner was decided by the outcome of the Super Bowl! No one in all this time has ever wrapped up the pool before the Super Bowl. In order for the leader to have things wrapped up going into the last game, they would have to be ahead by at least 3 times the nearest player, because of the +6 rule. Say Johnny has $3000 going into the Super Bowl. If Nancy is the nearest player at $1000, then Nancy will win if she bets it all plus 6 and wins, and Johnny misses his bet. Nancy would shoot to $3000, and Johnny would lose the minimum $100 bet to finish at $2900.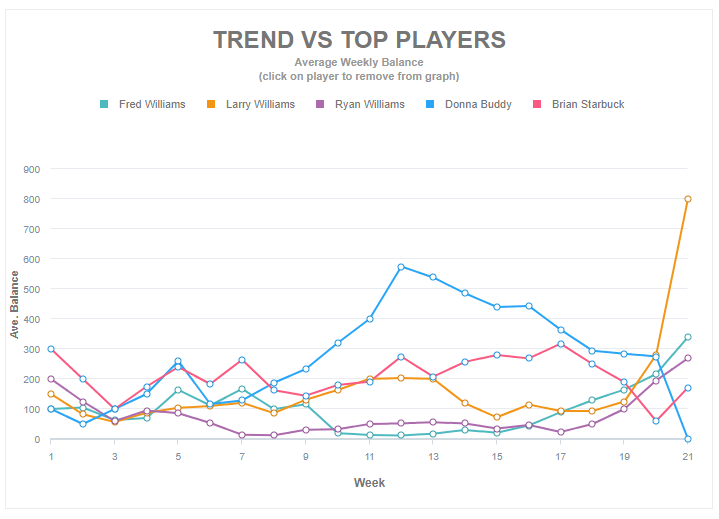 Consider the trend graph above. This is from my Play Money pool last year (2017). Ryan was languishing most of his rookie season only to end up winning 3rd place. Larry Williams was up and down throughout the season but ended up winning it all with a big bet on the Eagles. I also found myself in pitiful shape most the year only to have some picks go my way the last 5 weeks of the season to finish 2nd. Donna Buddy dominated most of the season only to end up dead last after blowing a huge chunk on the Patriots.
In the years I've run my Play Money pool going back to 1992, twice in that time the player in dead last place with 4 weeks to go won the whole thing. On one occasion a player was dead last with THREE weeks left and won. How? If you hit 3 straight weeks of plus-6 all-of-it bets to end a season, you shoot from $100 to $3900. If you hit 4 straight you'll go from $100 to $12000 in play money!
Get'er Done!
So what are you waiting for? This is pro pick em at its finest! Try our free OfficePoolStop Play Money Challenge, or start your own Play Money office pool!
(Visited 617 times, 1 visits today)