Are you considering an office pool for the World Cup? If so, you've come to the right place! For the first time ever the FIFA World Cup will be played in the Middle East in Qatar. With the World Cup qualifiers already established, you can start building your office pool in a variety of ways as shown below.
The common features of our office pools include an easy-to-use pick sheet for your players, a full standings page, a statistics page, and a home page where you as manager can post updates, anecdotes, etc. There are many other options, such as allowing your players to add clones to make additional picks to improve their odds, a handy way for managers to attach notes next to players, an accounting page to track player league fees, simply more than you will get anywhere else.
FIFA Prop Bet Pool
A Prop Bet pool is where you configure a series of questions that each of the players in your pool answer before the event. This provides an unlimited amount variety for your pool, as you can ask any question you want. For example, 'Which team will score the most goals in Group A?'. You would then provide up to 8 possible answers, each with a point value that you configure. You can also have yes and no, or true or false questions. You can even configure a question that requires a numerical answer as a tie-breaker, such as "How many total goals will be scored in the knockout bracket?". The options are simply unlimited! Once a certain event that your questions are tied to completes, you enter in the correct answers and we do all the rest, automatically generating a full standings page with leaderboard. Creating a Q&A office pool has never been easier.
World Cup Bracket Pool
Once the 16 group winners and runners-up advance to the knockout stage, you can set up a bracket pool for the single-elimination tournament. It's basically no different than a March Madness Sweet 16 bracket pool. Players fill out a bracket of how they predict each of the teams will advance. You can optionally add a tie-breaker entry and configure it to be anything you want, such as 'Total goals scored in final 4 games'. Or how about configure point values for different rounds, bonus points for correctly picking lower seeds, and much more.
Our renowned bracket maker provides all kinds of options for you to use. Feel free to experiment with the bracket generator and all its bells & whistles. Also be sure to browse tournament brackets others have created on the website to get an idea of the flexibility and power of our generator.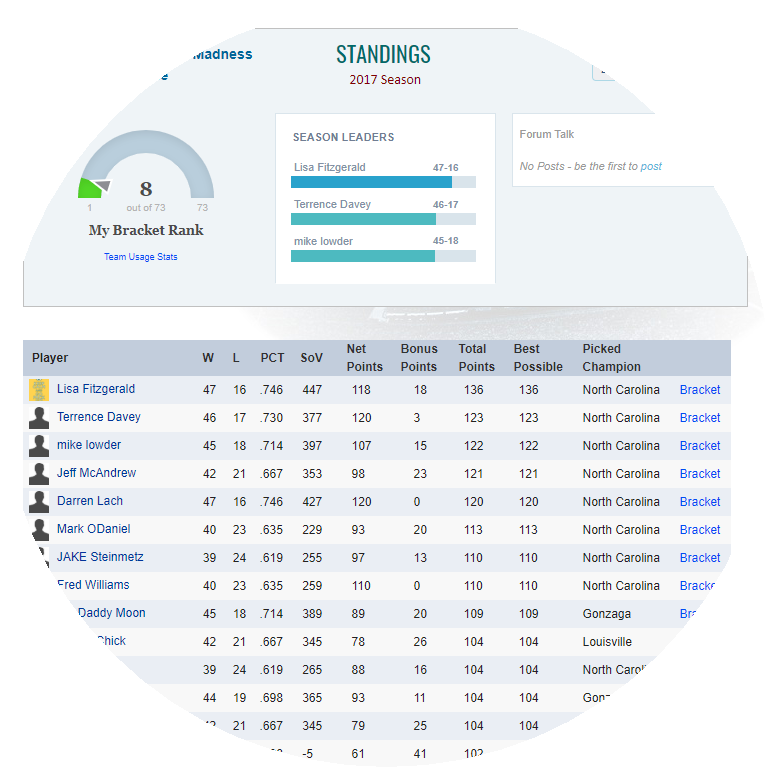 World Cup Pick em Pool
Starting in 2022, our website began to offer custom pick'em pools for any kind of sport. Now you can actually run a weekly world cup pick'em pool! Set up a slate of World Cup group stage games that you decide you want on the pick sheet that your players can select from. You can assign a point value to each game, configure bonus points for picking underdogs, and even bonus points for picking an exact tie-breaker. You'll be happy with the myriad of features that allow you to run a world cup pool like no other on the internet for your office mates or friends and family. You can start building your World Cup office Pick'em Pool here.
Tournament Rankem Pool
Our Bracket Maker allows you to optionally run the pool as a rankem league instead of a traditional bracket pool. Essentially players rank each team from 1 to 16, with 16 being the most confident value to place on a team (you might want to rank the team you think wins the championship with a 16). You would assign a 1 to the team you have the least confidence in, and so on and so forth.
Let Your Tournament Pool Begin
The best part of our pool host is that its free to use! It's what has made us the fastest growing office pool host on the internet. If you have any questions or suggestions, please don't hesitate to reach out to us. The best way to get started is to simply go to our Create League page and select the kind of pool you want to run. You can also visit our World Cup pools page for more details on how to run a World Cup pool. Have fun!
The Qualifiers
Nation (FIFA Rank)
Qatar (51)
Germany (12)
Denmark (11)
Brazil (1)
France (3)
Belgium (2)
Croatia (16)
Spain (7)
Serbia (25)
England (5)
Switzerland (14)
Netherlands (10)
Argentina (4)
Iran (21)
South Korea (29)
Japan (23)
Saudi Arabia (49)
Ecuador (46)
Uruguay (13)
Canada (38)
Ghana (60)
Senegal (20)
Portugal (8)
Poland (26)
Tunisia (35)
Morocco (24)
Cameroon (37)
USA (15)
Mexico (9)
Wales (18)
Australia (42)
Costa Rica (31)
(Visited 284 times, 1 visits today)