Running an office or "family and friends" football pool can either be easy, or an arduous task. Here at officepoolstop.com we strive to do the former with all kinds of bells-and-whistles. We'll explain step-by-step below how you can run your weekly pool on our site, and hold on to your hat, its free for you to use!
Before the web came along, gathering picks and tabulating results on paper or in a spreadsheet tested just how bad a league manager wanted to run a football pool. I spent quite a few years doing just this, having started a play money football pool back in 1992. The first step was gathering everyone's football pick sheets, either by direct contact or over the phone. Then email came along which made life a tad easier but the picks still needed to be "entered" somewhere. In my case I eventually started using an excel spreadsheet to track player's football picks and results. When that became too much, I decided to move everything online which is the reason officepoolstop.com exists today.
If you want to run a weekly pick'em pool, we have an option just for this. A weekly pickem pool primarily causes the Standings page to always default to the weekly picks and winners instead of the season leaders. The accounts page where you track what players have paid works on a weekly instead of season-wide basis. Basically everything I want for my pools to make my life easier, I've passed on to you. Below is an example of our NFL pick'em standings page, followed by our how-to list on running a weekly football pool.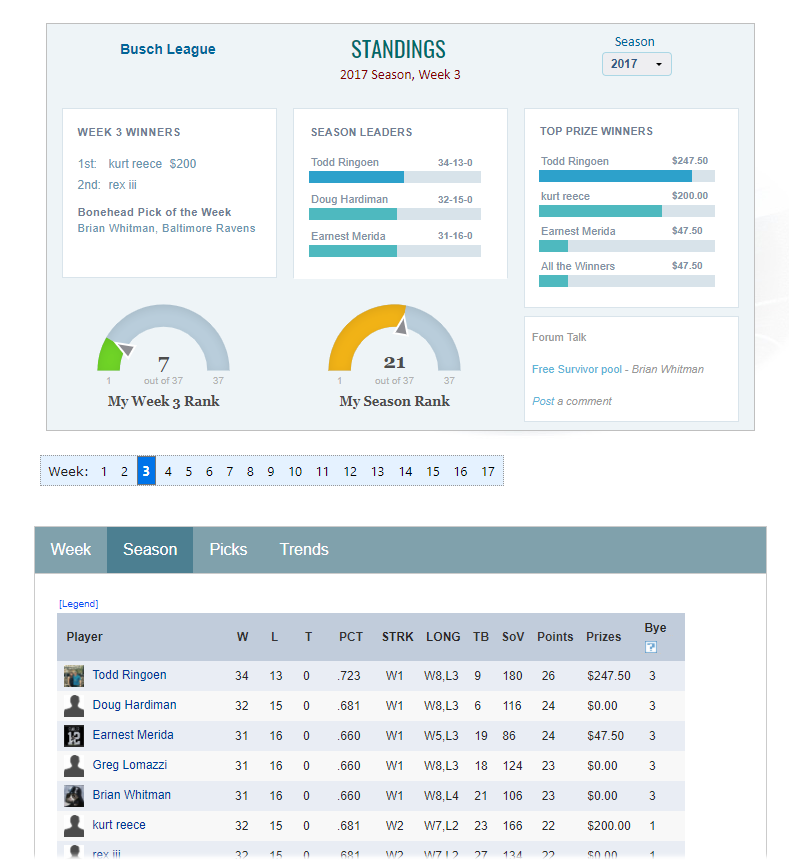 Here are steps on how to run a weekly pickem or survivor football pool:
Create a pro pickem or college pickem league on our site. Set up any fees, prizes, and other options that you want.
Optionally, edit your office pool home page with a welcome message and details about your league. You can also edit the pickem rules page to match your football pool.
From your manager control panel, select the Invite Friends page to send emails from the website to friends, family, and coworkers you want in your football pickem league.
From the manager control panel check to see who has seen and opened the email invites from the site. For those potential players who haven't seen or opened the email invite, you could try sending them an invite using your own email provider such as via gmail or yahoo.
Optionally, enable our built-in credit card service that uses your PayPal account, so that players can pay you through the website. This is one of our few premium features at a low cost to you.
Sit back and approve players as they sign up.
Kick back and enjoy, we do the rest throughout the football season! The only "work" you may have is keeping track of whose paid on the player accounts page, updating your home page with anything you want to share, and that occasional time where a player can't submit their football picks so you do it for them.
We have a variety of football pickem pools to choose from at officepoolstop.com. Be sure to check out all the configuration options for our pick em pools to get a better idea how a football pool works. You can even combine some pickem pool types into one football pool. For example, you could have a pickem pool that also has a prize for picking X number of games correct in a given week. The prize amount would grow each week until someone wins the prize (similar to how a lotto grows in value). This keeps players interested who may otherwise not be because they are too far behind to win the standard way.
If you don't want to run a pickem pool just yet, feel free to join one of our free public pick em leagues on our site to get a feel for the rich content we provide. We also are the best host for survivor football and March Madness pools, so be sure to also check those out!
(Visited 2,251 times, 3 visits today)