Every football season we hear from new managers who found our website after previously spending years running their football pool by gathering football pick sheets and entering them into a spreadsheet. This blog post is written for all those codgers out there (you know we love you!) who are looking for a place to run their football pool online. Or maybe you just happened to stumble upon this article not knowing there is an easy and better way to manage your college or pro football pool without collecting football pick sheets from everyone and entering them into a cumbersome spreadsheet. An NFL pick'em pool alone is typically 16 games to enter in each week, and a college pick'em pool can be even more depending on how many games you want your players to pick.
Why We are the Best Football Pool Manager
For starters, our office pool manager is free to use! We also provide a wide variety of football pools that you can run, such as an NFL pick em pool or college pick em pool, an NFL or college confidence pool, and an NFL survivor pool (also known as a knockout pool, eliminator pool, or suicide pool). Our proprietary NFL Play Money pool is growing in popularity because not only does it keep players vested for the entire season, it also provides a way to practice your skills at picking teams against the spread as if you were actually in Vegas at a sportsbook. We list the variety of pools we offer at the end of this article. You are also free to join any of our public football pools for fun competition and prizes.
Football Pool Configurations
Once you decide on a football pool to run, you'll find numerous ways to configure your pool. For example, you can assign points to each football game in your college or pro pickem pool, and you can configure 'key games' that when selected the player wins additional points if their key game football pick is correct. You can even configure a "jackpot" side pool that accumulates each week in your football pickem pool, such that when a player correctly pick a certain number of games in a given week (often mangers set this to 14), the player wins the jackpot. This is a great way to keep your players interested throughout the season. That way those who are hopelessly behind can still try to win the weekly "jackpot" you've configured (similar to a lottery, it will grow each week until a player wins it).
Pool managers really like our NFL survivor pool features. For example, you can configure your pro survivor pool to more than one life, you can set up a buyback option for players who lose to buy back in, and you can even configure a 2nd place bracket for players with one loss to continue to compete for 2nd place in the survivor pool.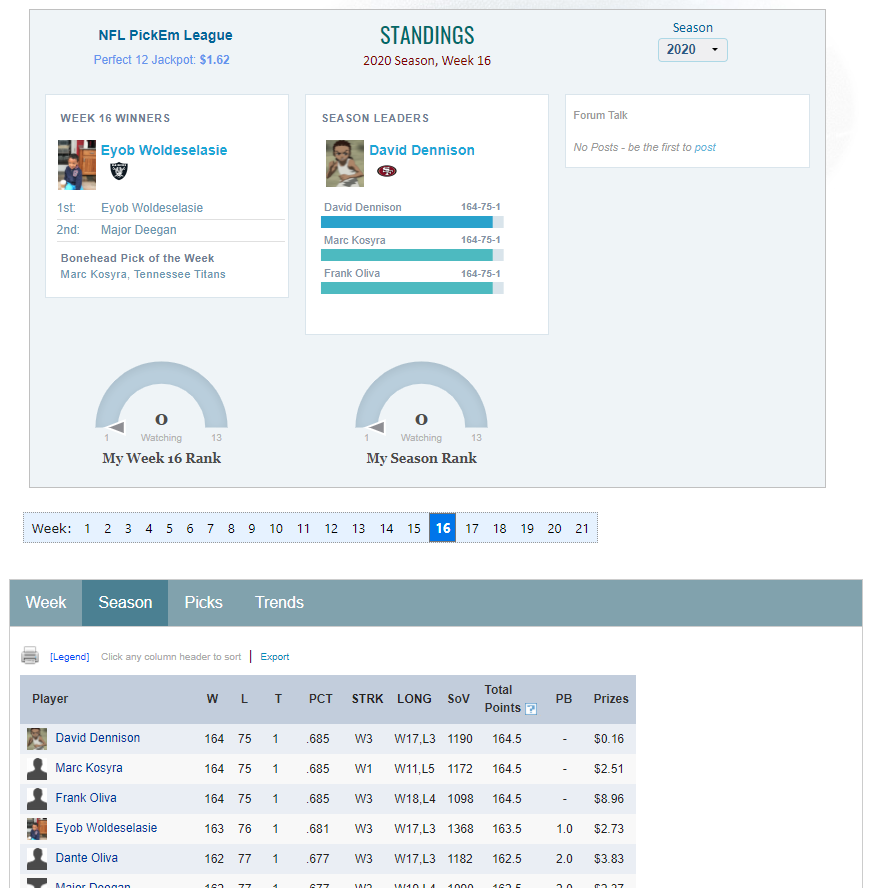 Football Pool Manager Tools
Not only do our configuration options separate us from the other office pool software out there, the tools we provide our managers are light years ahead of the competition. We have heard from plenty of former Yahoo pick'em, CBS Sports pick'em, and ESPN pick'em managers who will attest to our superior features and tools. For example, we provide managers a page to keep track of player fees and any prizes paid out, such as most wins for the week, most points at the end of the season, etc. Our pool managers can configure 1st through 4th place finishes weekly and for end-of-season that will automatically update on both the football pool standings page and the manager's player accounts page. Moreover, the manager can keep notes for each player on the player accounts page, such as when they received a check and for how much.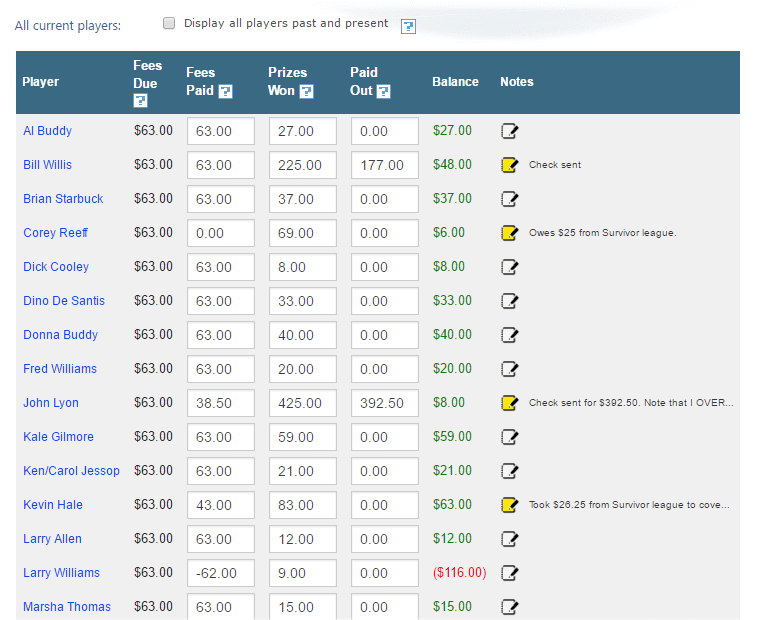 Managers also get to enjoy our comprehensive email feature that lets them see who opened and clicked on any emails sent from their football pool league. This is especially useful when managers first invite players to see who may have missed the email, which then allows the manager to reach out in a different manner to see if the player is interested in joining their football pool.
Wide Variety of Sports Pools
Not only can you run just about any kind of football pool, we also host, for free, a variety of NFL and college playoff pools, March Madness office pools, and an NFL draft pool. Our custom bracket maker allows you to run ANY sports pool you want, such as an NHL playoff bracket pool, an NBA playoff tournament bracket, a World Cup bracket pool, or a World Series pool (feel free to browse the tournament brackets created on our site). Our custom Q&A or 'Prop Bet' pool allows you to run any pool where players simply answer questions before the event, and the player who earns the most points wins the pool (questions can be assigned different point values). While the most popular use is a Super Bowl pool, you can also use our Prop Bet pool for an Oscars pool, a UFC fight pool, a NASCAR cup pool, a Masters golf pool, you name it!
Below are links to our most popular football pools if you want to find out more about them. Or if you want to get started create a football pool now!
If you are still not convinced and are dead set on doing things the old way, you can use our free weekly football pick sheet for both NFL and college football pick'em pools.
(Visited 896 times, 1 visits today)