We've recently improved our key games feature that can be used with our NFL Pick'em and College Pick'em football pools. Pool Managers can now select which games are available to be picked as a key game. Previously, players would have the full slate of games to pick as key games. The enhancement allows manager to remove games with high point spreads from being used as a key game.
How Football Pickem Key Games Feature Works
Each week players can select on their football pick sheet which games they want as a key game, such that if their pick is correct they get bonus points for that pick. The number of games they can mark as key is configured by the football pool manager (for example, select 2 key games). The manager also configures the bonus points won if the team picked wins on a game selected as a key game.
New Feature – Select Which Games Can be Used as Key Game
Starting with the 2021 season, both NFL pick'em managers and NCAA college Pick'em managers can choose which games on the pick'em sheet can be selected as a key game. This makes the key game feature much more strategic. In the past, players would simply pick the highest favorites. If the spread was enormous, say greater than 10 for an NFL game, or greater than 20 for a college football game, multiple players would use the same key game, thus negating any real strategic value to having players pick key games. Now, managers can deselect games on the pick sheet that have high point spreads, thus allowing much more strategy and careful consideration by players before deciding which games they want to mark on the pick sheet as 'key'.
How To Use Football Pickem Key Games Feature
Using new feature requires pickem pool managers to set the schedule for the given week, rather than going with the default (for NFL pickem, the default is all NFL games, for college pickem, the default is the first 20 Saturday games). Managers can enable this via the Control Panel -> League Settings page, 'Manager Sets Schedule' option. Then early each week when they set the schedule via the Manager -> Set Schedule page, they can select which games they want to be available as a key game option on the football pick sheet. The easiest path would be to select all games as key games, then deselect the heavy favorites.

Once the schedule is set, the 'Key Game' option on the pick sheet will be greyed-out for those games the manager de-selected.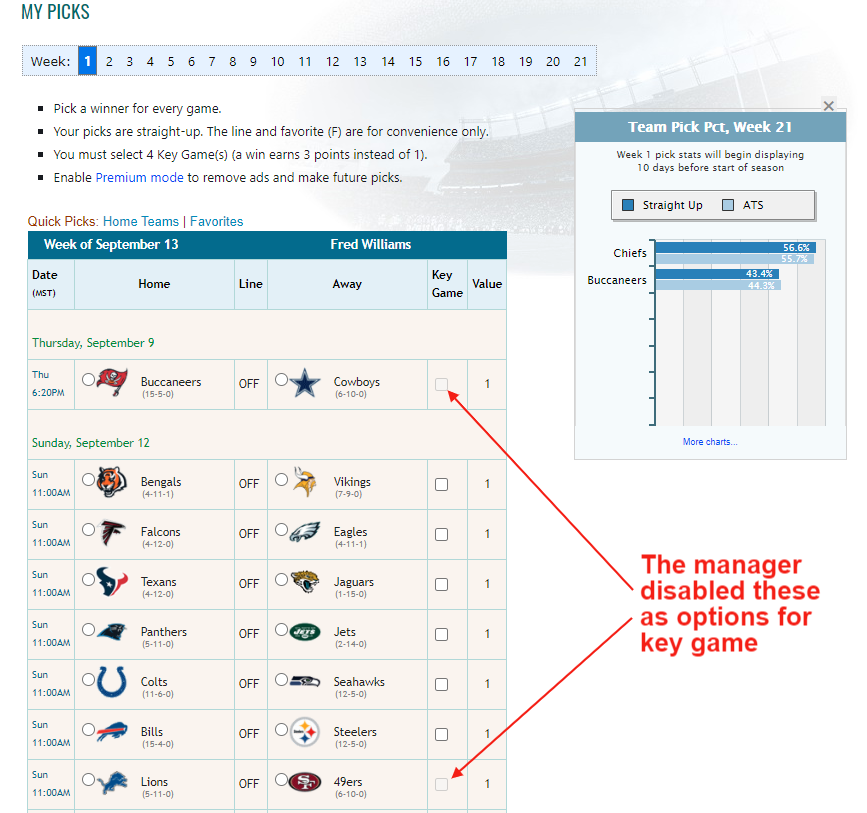 Chose Your Pickem Pool Format
If you are interested in running a college or NFL pickem pool, we have a variety to choose from. In case you are not aware, we host football pickem pools, survivor pools, and confidence pools at no cost to you! For pro football pickem pools and survivor pools, we also provide useful statistics to help you make your picks. Be sure to regularly visit our NFL Picks helper and Survivor Pool Strategy pages.
Please feel free to reach out to us if you have any questions, suggestions, or feedback!
(Visited 349 times, 1 visits today)